Jump to navigation
Jump to search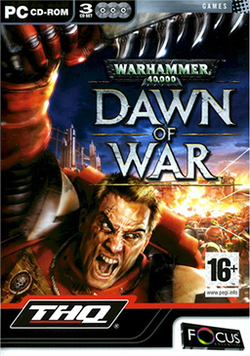 Neoseeker Related Pages
Links
Warhammer 40,000: Dawn of War is a real-time strategy computer game developed by Relic Entertainment based on Games Workshop's popular tabletop wargame, Warhammer 40,000. It was released by THQ on September 20, 2004 in North America. Since its release, three expansion packs have been released: Winter Assault in 2005, Dark Crusade in 2006, and Soulstorm in 2008. The sequel, Dawn of War II, was released in February 2009.
The "Game of the Year" edition, containing four exclusive maps, was released on September 20, 2005 in the USA and on September 23 in Europe. Later, the Game of the Year edition and Winter Assault were bundled in the "Gold Edition" (USA), and after the release of Dark Crusade it was packed with Dawn of War and Winter Assault as the "Platinum Edition" (USA) or Dawn of War: Anthology (Europe).
Most recently, Dawn of War and all three expansions were released together as Dawn of War: The Complete Collection.
The game is set in the Warhammer 40,000 universe, a dystopian vision of the future. Humanity has forged a galaxy-spanning empire, The Imperium, with the Immortal Emperor as humanity's leader and a living god. The Imperium is in a state of constant war with the Orks, Eldar, and the human servants of Chaos, desperately fighting to preserve the human race from extinction. The single player campaign is set on the planet Tartarus.
Gameplay is initially focused on capturing and holding strategic locations on the battlefield. These control points are captured by infantry squads and provide resources to construct additional units and buildings or unlock certain units in an army's tech tree. Battles are won either by holding a certain number of control points for a period of time or by destroying all of the opposing armies' HQ structures.
Table of Contents
Races
Order
Disorder
Other