Jump to navigation
Jump to search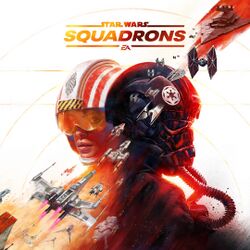 Star Wars: Squadrons is a competitive flight action game set after the events of Return of the Jedi. Developed by Motive Studios and published by Electronic Arts, Squadrons is a chiefly multiplayer game with a small single player campaign.
Squadrons features full cross-play functionality, allowing PlayStation and Xbox players to fly alongside PC players. Progression, however, is tied to the console it was made on.
Squadrons features the New Republic - formerly the Rebel Alliance - fighting for freedom in the galaxy against the tyrannical remnants of the Galactic Empire. Each of the two sides has five playable ships.
For players new to Squadrons, see the Gameplay page and the pages individual to each craft. For campaign options, see the Walkthrough page.
The single player campaign follows the story of Vanguard Squadron of the New Republic, and Titan Squadron of the Galactic Empire. The campaign alternates between both viewpoints, and follows the story of the New Republic's Starhawk project. The player character of each campaign is customizable and is named by the player - adopting the positions of Vanguard 5 for the New Republic, or Titan 3 for the Galactic Empire.
For multiplayer modes, the star is known as Fleet Battles, an objective-based game mode where you aim at destroying an enemy capital ship. The game operates through several ranked seasons, which unlock different cosmetics.
The two resources in the game are requisition, used to buy items that alter your playstyle, and glory, which is for cosmetics. Both can be obtained by ranking up, and cannot be purchased with real life money. For additional information, see the Ranking section.
Table of Contents
External Links
[
edit
]