Jump to navigation
Jump to search

Vanir form the bulk of the military and society in the Early Age of Vanheim. Their Glamour ability allows them to pass disguised and create mirror images in battle. The Vanir can sail the seas.
Overview
[
edit
]
National Features
[
edit
]
EA Vanheim: Units
[
edit
]
Serf Warrior
Huskarl (Spearmen)
Huskarl (Axemen)
Hirdmen
Mounted Hirdmen
Vanhere (Capital only)
Gold: 50
Resources: 16
Holy: 1
Fay Boar (Capital only)
Commanders
[
edit
]
Vanlade
[
edit
]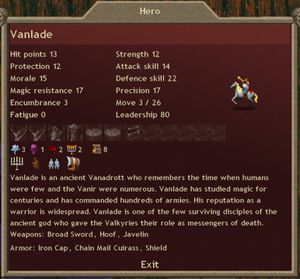 Statwise, Vanlade is basically just another Vanadrott, with better armor (chain mail cuirass as opposed to lightweight scale), the maximum amount of magical skill a vanilla Vanadrott can start with (A3, D1, B2), and a few slightly lower stats (most relevantly HP, strength and magic resistance).
Apparently, Helheim can get Vanlade as well, and he is a bit more special and helpful to them. But, for Vanheim, he's, again, just another Vanadrott.
HP: 13
Pr: 12
Mo: 15
MR: 17
En: 3
St: 12
At: 14
De: 22
Pr: 17
Mv: 3/26
Ld: 80
Magic Skill: A3, D1, B2, H2; research skill 8
Abilities: Sacred, Stealth, Glamour, Sailing
Weapons: Broad Sword, Hoof, Javelin
Armor: Iron Cap, Chain Mail Cuirass, Shield
Solvis is a Vanadis from Helheim, and so a lucky Vanheim player can have one as well.
HP: 15
Pr: 11
Mo: 18
MR: 17
En: 4
St: 11
At: 16
De: 21
Pr: 17
Mv: 3/26
Ld: 80
Magic: F1, A2, H1, research skill 5
Abilities: Sacred, Awe +2, Flying, Stealth, Glamour
Weapons: Light Lance, Hoof, Javelin
Armor: Iron Cap, Scale Male Cuirass, Shield
Starting Sites
[
edit
]
National Spells
[
edit
]
National Summons
[
edit
]
Unit

Gems z
Description
Strategies
[
edit
]
Strategy A
[
edit
]
Scale Design
[
edit
]
Pretender Design
[
edit
]
Expansion
[
edit
]
Research Order
[
edit
]