Jump to navigation
Jump to search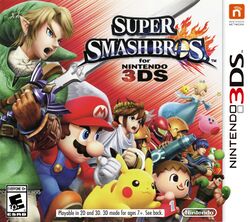 Neoseeker Related Pages
Links
This guide is for the Nintendo 3DS version. For the Wii U version, see Super Smash Bros. for Wii U.
Super Smash Bros. for Nintendo 3DS (大乱闘スマッシュブラザーズ for Nintendo 3DS, Dairantō Sumasshu Burazāzu fō Nintendō Surī Dī Esu?) is a fighting game developed by Sora Ltd. and Bandai Namco Games and published by Nintendo for the Nintendo 3DS. The game is the fourth installment in the Super Smash Bros. series of games, which features characters from various Nintendo franchises. It was released in Japan on September 13, 2014, in North America and Europe on October 3, 2014, and in Australia on October 4, 2014. A follow-up title, Super Smash Bros. for Wii U, was released soon after.
Super Smash Bros. for Nintendo 3DS is the first in the series to be playable on a handheld, as well as the first Smash game to receive balance patches and DLC. It shares many features with its sister game, Super Smash Bros. for Wii U, such as mechanics and characters, and has limited interconnectivity with the game, such as the ability to transfer custom characters or, in the case of the New Nintendo 3DS, utilize Amiibo. Alongside classic characters like Mario and Link, this game also introduces a slew of new fighters, including two additional third-party characters: Mega Man and Pac-Man. Finally, the 3DS version has Smash Run, a game mode reminiscent of City Trial from Kirby Air Ride that features players fighting in a huge stage gathering power-ups for a final confrontation.
Table of Contents