Jump to navigation
Jump to search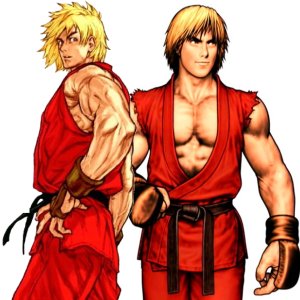 Click here for more information about Ken's other fighting game appearances.
Ken began life as a rebellious and spoiled child of a member of the wealthy Masters family. Foreseeing trouble in his life ahead, Ken's father thought it would be best to send him to Japan under the tutelage of his former martial arts sensei, Gouken. With little say in the matter, Ken reluctantly traveled to Japan where he met his new guardian, along with another young Japanese boy his age who was undergoing the same training that he would be. The two boys, as different as night and day, became fast friends, and Ken began to thrive in his new home. He gained not only discipline, but also pride in his newfound fighting ability, and he would go on to become the winner of several American fighting tournaments. But no matter how much he won, it was all meaningless to him whenever he wondered when he might have the chance to rematch his former friend and rival, Ryu.
Normal Ken is very much like the version of Ken found in Street Fighter Alpha 3, including his Level 3 only Shippuujinrai Kyaku Super Combo, and the addition of a new special kick attack, Ryusenkaku. Extra Ken is nearly identical to Ken as he was played in Super Street Fighter II Turbo including his three extra roundhouse kick moves. In Capcom vs. SNK Pro, the command for his new kick attack was reversed. In Capcom vs. SNK 2, he is truly a fusion of his Normal and Extra modes, with simplified motions for his three roundhouse kicks being added to his Alpha 3 command set.
Pro version changes
[
edit
]
Normal Ken's Ryusenkaku is now performed by the reverse dragon punch motion. He jumps higher in the air with this move than before and it only hits once, but it now knocks opponents down. The delay afterwards has been shortened when it is blocked on the ground, but Ken is vulnerable in the air for much longer.
The first hit of his Shoryuken knocks opponents down, meaning that even if the next hits miss, Ken isn't left as vulnerable as he is in the original version or the Alpha series.
All three hits of his Shoryuken connect in the air if used as an air counter.
Timing on his juggle combo in the corner has changes somewhat; after juggling with the Level 1 Shoryuu Reppa, you must perform the Shinryuken earlier to juggle (the bottom portion misses), but it still does a good amount of damage.

| Name | | Input |
| --- | --- | --- |
| Inazuma Kakato Wari | + | |
| Hadouken | + | |
| Shoryuken | + | |
| Tatsumaki Senpuukyaku | + | |
| Zenpou Tenshin | + | |
| Ryusen Kyaku | + | |
| Shouryuu Reppa | + | |
| Shinryuuken | + | |
| Shippuujinrai Kyaku | + | |
| Name | | Input |
| --- | --- | --- |
| Inazuma Kakato Wari | + | |
| Hadouken | + | |
| Shoryuken | + | |
| Tatsumaki Senpuukyaku | + | |
| Kama Barai Geri | + | |
| Nata Otoshi Geri | + | |
| Oosoto Mawashi Geri | + | |
| __Inazuma Kakato Wari | Hold | during any Geri move. |
| Shouryuu Reppa | + | |

Special Moves

| | |
| --- | --- |
| Hadouken | + |

| | |
| --- | --- |
| Shoryuken | + |

| | |
| --- | --- |
| Zenpou Tenshin | + |

| | |
| --- | --- |
| Ryusen Kyaku | + |
Special Moves

| | |
| --- | --- |
| Hadouken | + |

| | |
| --- | --- |
| Shoryuken | + |

| | |
| --- | --- |
| Kama Barai Geri | + |

| | |
| --- | --- |
| Nata Otoshi Geri | + |

| | |
| --- | --- |
| Oosoto Mawashi Geri | + |

| | |
| --- | --- |
| └►Inazuma Kakato Wari | Hold during any Geri move. |

| Name | | Input |
| --- | --- | --- |
| Inazuma Kakato Wari | + | |
| Ushiro Mawashi Geri | + | |
| Hadouken | + | |
| Shouryuken | + | |
| Tatsumaki Senpukyaku | + | |
| Ryusenkyaku | + | |
| Nataotoshi Kick | + | |
| Kamabarai Kick | + | |
| Oosotomawashi Kick | + | |
| __Inazuma Kakato Wari | Hold | during any Geri move. |
| Zempou Tenshin | + | |
| Shouryu Reppa | + | |
| Shinryuken | + | , |
| Shippu Jinraikyaku | + | |