Jump to navigation
Jump to search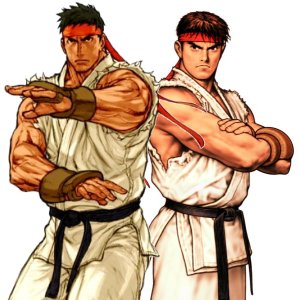 Click here for more information about Ryu's other fighting game appearances.
Ryu is Capcom's representation of the ultimate street fighting warrior. Raised as an orphan by master Gouken, he befriended a young boy named Ken that joined them. Together, they trained under Gouken in an ancient and lethal form of martial arts. Night and day, Ken and Ryu trained until they reach adulthood and it was time to explore the world. Ken returned home to the United States, while Ryu wandered around, looking to test his abilities against the best fighters in the world. When we reached the champion bout of the first world fighting tournament, he was pitted against the Muay Thai King, Sagat. He was about to lose the battle when he gave into the dark side of his martial arts, and executed a devastating Shoryuken that left a huge scar on Sagat's chest. He spent the next several years waging an inner battle with himself to control the Dark Hadou. He enters this competition very at peace with himself, and looking forward to facing the legendary Kyo Kusanagi who he heard so much about. He plays like his Street Fighter Alpha 3 version, and has no Extra mode due to the presence of Evil Ryu.
Pro version changes
[
edit
]
Opponents can trade hits with Ryu's Shoryuken as easy as in SSF2T now. To hit this consistently with Ryu, you now have to wait until the opponent is very deep before executing the move.
Shin Shroyuken juggles, but only for air counter damage instead of the full damage it used to do. If you combo off of the crouching , you will do a very small amount of damage. The same is true for a Shoryuken. You can still combo for the full damage off of a very deep +, or crouching , but even his cross up , standing , Shin Shroyuken combo will not connect (the standing pushes your opponent too far away.)
His Shinkuu Tatsumaki Senpukyaku has been improved; it does more damage and has better priority on the ground.

| Name | | Input |
| --- | --- | --- |
| Sakotsu Wari | + | |
| Senpuu Kyaku | + | |
| Hadouken | + | |
| Shakunetsu Hadouken | + | |
| Shouryuuken | + | |
| Tatsumaki Senpuukyaku | + | |
| Shinkuu Hadouken | + | |
| Shinkuu Tatsumaki Senpuukyaku | + | |
| Shin Shoryuken | + | |

| Name | | Input |
| --- | --- | --- |
| Sakotsu Wari | + | |
| Senpuu Kyaku | + | |
| Kyuubi Kudaki | + | |
| Hadouken | + | |
| Shakunetsu Hadouken | + | |
| Shouryuuken | + | |
| Tatsumaki Senpuukyaku | + | |
| Shinkuu Hadouken | + | |
| Shinkuu Tatsumaki Senpuukyaku | + | |
| Shin Shouryuuken | + | |