Jump to navigation
Jump to search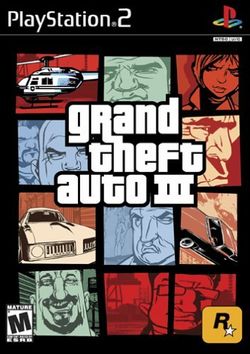 Grand Theft Auto III is a non-linear driving and shooting game released by Rockstar North on October 22, 2001 for the PlayStation 2 and May 21, 2002 for Windows, as well as in the Grand Theft Auto Double Pack and Grand Theft Auto Triple Pack re-releases.
In more recent years, fan projects have resulted in a multiplayer component called Multi Theft Auto and a Grand Theft Auto: Vice City total conversion called GTA: Liberty City that adds the newer Vice City elements (such as bikes and helicopters, as well as improved controls) to GTA III.
The game takes place in October 2001. The nameless player character (later revealed in Grand Theft Auto: San Andreas to be named "Claude") was betrayed by his girlfriend, Catalina, during a bank heist in Liberty City and arrested. However, Claude escaped when the police convoy he was in was attacked, allowing him to flee and rise in the ranks of the Liberty City underworld and seek revenge on Catalina.
Table of Contents
Story Missions
Portland
Introduction

Luigi Goterelli

Joey Leone

Toni Cipriani

Salvatore Leone
Staunton Island

Asuka Kasen

Kenji Kasen

Ray Machowski

Donald Love
Shoreside Vale

Catalina
Side Missions
Marty Chonks

El Burro

King Courtney

D-Ice
Off-Road Checkpoints
TOYZ RC Vans