Jump to navigation
Jump to search
Nicolas Klaus is a business partner of the Cuneos. He's known for his brutal tactics, heavy drinking, and eagle-eyed bodyguards. They can spot a weapon from a block away, so make sure to play it safe by keeping your firearms concealed at the party.
Reward: $5,000 +6,000 Respect
Bonus Condition: Use a bare-handed strangle
Bonus Reward: $25,000 +30,000 Respect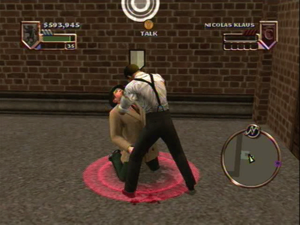 Drive to the party Klaus is at in Jersey. Then simply walk casually up to him with your weapons concealed. He will be drunk as a fish. Grab him and strangle him to death. You'll get shot at as you are doing so, but there is a health bottle just a few steps away that you can grab after Klaus is dead. Plus, at that point, you can draw a weapon and defend yourself with firepower.
Special note: You shouldn't play this mission during a "Mob War" as it will ruin your chance of strangling Klaus without getting distracted. Also, do not call your squad or hire a bodyguard as they will automatically attack their opponents.