Jump to navigation
Jump to search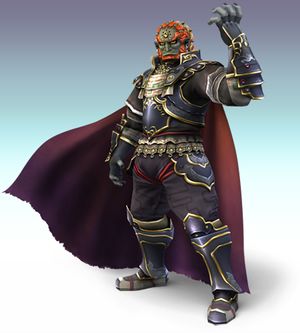 The feared King of Evil and wielder of the Triforce of Power returns to Project M with the amazing strength he inherited in Melee, though some parts of his Brawl moveset return, as well, such as the reintroduction of Flame Choke, his new side special from Brawl.
As expected, Ganondorf is the heavyweight powerhouse he was in Melee, being extremely powerful and one of the strongest fighters within the cast, boasting massive power in the majority of his attacks. Aside from his power, he also has among the best reaches as a result of his size and height. With his tremendous power and reach, he is capable of demolishing.
Arguably Ganondorf's biggest strength is his edgeguarding game. Ganondorf's down aerial is arguably his most popular move in his moveset, as it is the strongest meteor smash in the game.
On top of that, Ganondorf is also equipped with a new neutral special known as the Dead Man's Volley & Drift. This move acts as a reflector against projectiles, thus addressing Ganondorf's weakness against projectiles he had in previous installments of Smash; when used in midair, however, it has access to one additional ability: it can allow him to temporarily float, slowing his falling speed, which is a handy tool that benefits his recovery, especially when used alongside his aerial Wizard's Foot.
Basic Attacks
[
edit
]
Wii Remote + Nunchuk
Wii Remote (sideways)
Wii Classic Controller
GameCube Controller
Normal Attack
Info
while dashing
while dashing
while dashing
while dashing
+
+
+
+
+
+
+
+
+
+
+
+
Smash Attacks
[
edit
]
Wii Remote + Nunchuk
Wii Remote (sideways)
Wii Classic Controller
GameCube Controller
Attack
Info
Smash +
++
(Smash +) or
(Smash +) or
Smash +
++
(Smash +) or
(Smash +) or
Smash +
++
(Smash +) or
(Smash +) or
Pummels and Throws
[
edit
]
| Wii Remote + Nunchuk | Wii Remote (sideways) | Wii Classic Controller | GameCube Controller | Pummel/Throw | Info |
| --- | --- | --- | --- | --- | --- |
| after grab | after grab | after grab | after grab | | |
| after grab | after grab | after grab | after grab | | |
| after grab | after grab | after grab | after grab | | |
| after grab | after grab | after grab | after grab | | |
| after grab | after grab | after grab | after grab | | |
Air Attacks
[
edit
]
| Wii Remote + Nunchuk | Wii Remote (sideways) | Wii Classic Controller | GameCube Controller | Attack | Info |
| --- | --- | --- | --- | --- | --- |
| | | | | | |
| + | + | + | + | | |
| + | + | + | + | | |
| + | + | + | + | | |
| + | + | + | + | | |
Special Attacks
[
edit
]
Wii Remote + Nunchuk
Wii Remote (sideways)
Wii Classic Controller
GameCube Controller
Special Attack
Info
Dark Descent/Dead Man's Volley & Drift
+
+
+
+
Flame Choke
+
+
+
+
Dark Dive
+
+
+
+
Wizard's Foot
| Wii Remote + Nunchuk | Wii Remote (sideways) | Wii Classic Controller | GameCube Controller | Taunt |
| --- | --- | --- | --- | --- |
| | | | | |
| + | ( or )+ | or | or | |
| | + | | | |
Final Smash
[
edit
]