Jump to navigation
Jump to search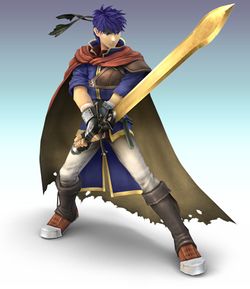 The leader of the Greil Mercenaries returns to Project M as an even bigger force to be reckoned with.
Ike is mostly the same as in Brawl, only faster and stronger than ever before. His running speed was increased, allowing him to catch up to opponents more easily. Aside from that, Ike's comboing game also has improved.
Ike still has to deal with his attacks being extremely laggy to the point where if they are ever misused, even in small situations, Ike would leave himself prone to combo setups and follow-ups; his ease in being comboed is compounded by a few factors, including a relatively tall height and high weight. Even with his repertoire of useful recovery options, they are still arguably easy to edgeguard and gimp, and moves such as a semi-spike can easily finish him off should he not be careful.
Basic Attacks
[
edit
]
Wii Remote + Nunchuk
Wii Remote (sideways)
Wii Classic Controller
GameCube Controller
Normal Attack
Info
while dashing
while dashing
while dashing
while dashing
+
+
+
+
+
+
+
+
+
+
+
+
Smash Attacks
[
edit
]
| Wii Remote + Nunchuk | Wii Remote (sideways) | Wii Classic Controller | GameCube Controller | Attack | Info |
| --- | --- | --- | --- | --- | --- |
| Smash + | ++ | (Smash +) or | (Smash +) or | | |
| Smash + | ++ | (Smash +) or | (Smash +) or | | |
| Smash + | ++ | (Smash +) or | (Smash +) or | | |
Pummels and Throws
[
edit
]
| Wii Remote + Nunchuk | Wii Remote (sideways) | Wii Classic Controller | GameCube Controller | Pummel/Throw | Info |
| --- | --- | --- | --- | --- | --- |
| after grab | after grab | after grab | after grab | | |
| after grab | after grab | after grab | after grab | | |
| after grab | after grab | after grab | after grab | | |
| after grab | after grab | after grab | after grab | | |
| after grab | after grab | after grab | after grab | | |
Air Attacks
[
edit
]
| Wii Remote + Nunchuk | Wii Remote (sideways) | Wii Classic Controller | GameCube Controller | Attack | Info |
| --- | --- | --- | --- | --- | --- |
| | | | | | |
| + | + | + | + | | |
| + | + | + | + | | |
| + | + | + | + | | |
| + | + | + | + | | |
Special Attacks
[
edit
]
| Wii Remote + Nunchuk | Wii Remote (sideways) | Wii Classic Controller | GameCube Controller | Special Attack | Info |
| --- | --- | --- | --- | --- | --- |
| | | | | Eruption | |
| + | + | + | + | Quick Draw | |
| + | + | + | + | Aether | |
| + | + | + | + | Counter | |
| Wii Remote + Nunchuk | Wii Remote (sideways) | Wii Classic Controller | GameCube Controller | Taunt |
| --- | --- | --- | --- | --- |
| | | | | |
| + | ( or )+ | or | or | |
| | + | | | |
Final Smash
[
edit
]