Jump to navigation
Jump to search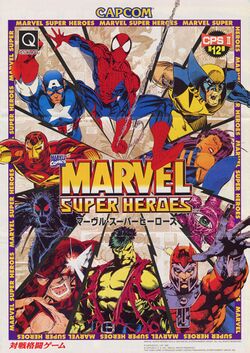 Marvel Super Heroes is a fighting game developed by Capcom. Originally released in the arcade in 1995 on the CPS-2 arcade system, it was later ported to the Sega Saturn and PlayStation. It features many superheroes and supervillains from the Marvel Comics line, including Spider-Man, Doctor Doom, and the Hulk. In addition, Psylocke and Wolverine return from X-Men: Children of the Atom, along with boss characters Juggernaut and Magneto.
The game is loosely based on the Infinity Gauntlet storyline, with the heroes and villains battling each other for the Infinity Gems. The final boss is Thanos, who steals whatever Gems the player had collected (at that point, all but the sixth gem, Mind) and attaches them to the Infinity Gauntlet, which grants Thanos ultimate power over reality.
The gameplay is similar X-Men: Children of the Atom, but with a simplified super meter, and the addition of the Infinity Gems. Collected gems can be activated in battle, giving the user a different power for a few seconds. In addition, each character has a Gem that they have a special affinity for, and will get additional abilities whenever they activate it.
Just as Capcom had hidden one non-Marvel character in the X-Men game, there is another Capcom character hidden in Marvel Super Heroes. Her name is Anita, and she is the little emotionless girl that accompanies Donovon Baine from Darkstalkers series. Anita, along with bosses Doctor Doom and Thanos, are only playable in the arcade when the machine is set to "Free Play" (no money is required to start a game) and the correct code is entered, but they are all accessible in the home conversions of the game, also unlocked by secret codes, after the game has been beaten once.
Table of Contents