Jump to navigation
Jump to search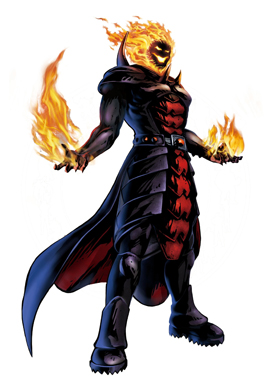 Dormammu and his sibling Umar was born in a dimension inhabited by powerful entities of energy called the Faltine. Umar and him drew matter to themselves to obtain more power, but were cast out from the Faltine dimension after murdering their parent. They soon arrived in the Dark Dimension, where the ruler, King Olnar, offered them sanctuary in exchange of knowledge on transdimensional travel and ways of merging other dimensions into theirs. On a transdimensional expedition, King Olnar and other Dark Dimension inhabitants were killed by the Mindless Ones, deadly creatures from another dimension. Dormammu and Umar took this chance to become the rulers of the Dark Dimension.
Dormammu conquered an unknown amount of dimensions, but soon sets his sights on Earth. His attempts were repeatedly thwarted by the Earth's Sorcerer Supreme. He fought other adversaries from Earth over the centuries, but the one foe he showed the most interest in is the Mystic, later called the Ancient One. The Ancient One created a barrier over Earth that prevented him from directly carrying out his conquest of Earth. When Dr. Strange, the Ancient One's apprentice, went to confront Dormammu, he found newfound hatred in this earthen foe. Dormammu has made several attempts at conquering Earth ever since, and faced off with Dr. Strange, now the Sorcerer Supreme, many more times.
Being an extradimensional being, Dormammu is one of the most powerful beings in the universe. He has shown enough power to destroy the entire Marvel universe with ease. He possesses great mastery over the mystic arts due to his nature as a Faltinian being. He is also a capable martial artist. Dormammu's abilities are noticeably weakened on Earth.
In Marvel vs. Capcom 3: Fate of Two Worlds, Dormammu is a character that can control space with his Dark Hole and Purification. His Liberation is a unique special move that unleashes the energy stored from using Dark Spell. The Light version of dark spell, destruction will create explosions of varying sizes while the Medium version, creation will generate spikes from the ground. Unleashing 3 charges of creation will prevent the opponent from jumping, if it hits. Hacing a combination of destruction and creation charges will summon meteors or hellfire. His Floating Bomb super is similar to Dhalsim's Yoga Catastrophe in Street Fighter IV, but it will actually home in on the opponent.

| Name | | Input |
| --- | --- | --- |
| Finger Shot | + | |
| Pool of Flame | + | |
| Dark Hole | + | |
| Teleport | + | |
| Purification | + | |
| Flight | + | |
| Power of Destruction | + | |
| Power of Creation | + | |
| Liberation | + | |
| Chaotic Flame | + | |
| Floating Bomb | + | |
| Dark Dimension | + | |
| Type | Name | Class | Direction | Cross-Over Combination |
| --- | --- | --- | --- | --- |
| α | Dark Hole | Shot | → Forward | Chaotic Flame |
| β | Purification | Shot | ↑ Upward | Chaotic Flame |
| γ | Liberation | Shot | → Forward | Stalking Flare |

| Name | | Input |
| --- | --- | --- |
| Dark Matter | + | |
| Flame Carpet | + | |
| Dark Hole | + | |
| Mass Change | + | |
| Purification | + | |
| Flight | + | |
| Dark Spell: Destruction | + | |
| Dark Spell: Creation | + | |
| Liberation | + | |
| Chaotic Flame | + | |
| Floating Bomb | + | |
| Dark Dimension | + | |
| Type | Name | Class | Direction | Cross-Over Combination |
| --- | --- | --- | --- | --- |
| α | Dark Hole | Shot | → Forward | Chaotic Flame |
| β | Purification | Shot | ↑ Upward | Chaotic Flame |
| γ | Liberation | Shot | → Forward | Stalking Flare |