Jump to navigation
Jump to search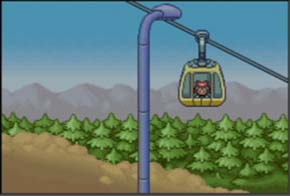 Return to the Route 112 entrance to Fiery Path, and you'll find that the way to the cable car system has been cleared. Enter the building and talk to the attendant to hitch a ride to the top of the mountain.
The Battle of Mt. Chimney
[
edit
]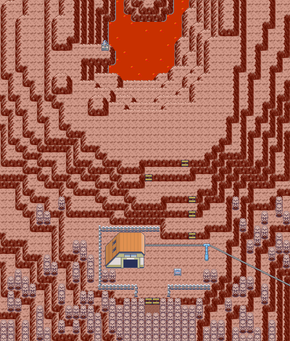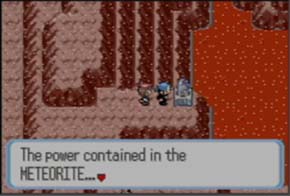 Upon exiting the cable car, you find that Team Aqua and Team Magma are engaging in a wide-scale battle across the peak! Most of the Grunts are too busy fighting each other to harass you, so you can walk past them. Nearer to the peak, you'll find one of the Team Leaders pinned down by three of the rival team's Grunts, and he'll implore you to stop them. Continue to the west of the caldera, and find the antagonistic team's Leader and one of their admins.
In Ruby
[
edit
]
In Sapphire
[
edit
]
In Emerald
[
edit
]
Once you beat the Team leader, he'll give up the Mt. Chimney plans. The Leader of his rival team will come and congratulate you. Walk to the machine and remove the Meteorite kept in it. Now, the path to the south of the cable car station will be open. Head down the stairs here to enter Jagged Pass.
Mt. Chimney Return Visits
[
edit
]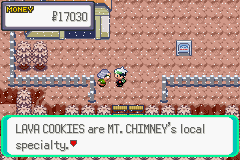 If you return to Mt. Chimney at any point, you'll find that any trace of the battle that took place here has disappeared. Instead, a few trainers will be dotted around the area. Additionally, the old lady by the entrance to Jagged Pass will be selling Lava Cookies, which increase the power of Fire-type moves.
Ruby and Sapphire
Picture
Pokémon
Reward

Beauty Shirley
Numel (lvl. 22)
1760

Beauty Sheila
Shroomish (lvl. 22)
1760

Expert Shelby
Meditite (lvl. 22)
Makuhita (lvl. 22)
880

Beauty Melissa
Marill (lvl. 22)
1760