Jump to navigation
Jump to search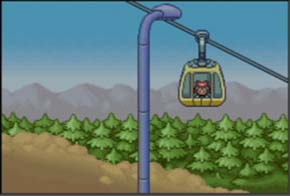 Remember the entrance to the Fiery Path? Go back there and walk to the right. You will find the Cable Car station open. Enter it and talk to the lady. She will provide you with a car and you will be taken to Mt. Chimney.
First Visit: Team Aqua/Magma Conflict
[
edit
]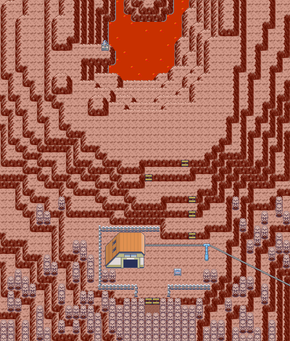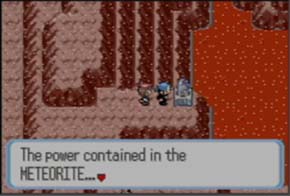 Once you are out of the car, climb up the mountain. You will find many Aqua and Magma grunts fighting with their Pokémon, including three Aqua/Magma grunts against the rival Team Leader. He wants you to stop the dominant team, so head west and you will find an Team Grunt and Team Admin blocking your way to the Team Leader.
Trainers
[
edit
]
Ruby

Team Magma Grunt
Ruby

Team Magma Admin Tabitha
Ruby

Team Magma Leader Maxie
Sapphire

Team Aqua Grunt
Sapphire

Team Aqua Admin Matt
Sapphire

Team Aqua Leader Archie
Once you beat the Team leader, he'll give up the Mt. Chimney plans. The Leader of his rival team will come and congratulate you. Walk to the machine and remove the Meteorite kept in it. Now, the path to the south of the cable car station will be open. Head down the stairs here to enter Jagged Pass.
Second Visit: After Team Aqua/Magma Conflict
[
edit
]
If you return to Mt. Chimney any time, there is a new group of trainers and a woman near the Cable Car station who will offer Lava Cookies for

200 each, which can cure all status problems.
Ruby and Sapphire

Expert Shelby
Ruby and Sapphire

Beauty Shirley
Third Visit: After Pokémon League
[
edit
]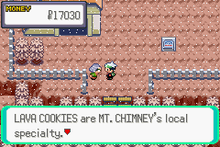 The woman with Lava Cookies is still there but, more importantly, the trainers have levelled up.
Trainer

Expert Shelby