Jump to navigation
Jump to search
New Pokémon
Ruby
Sapphire
Emerald
Rayquaza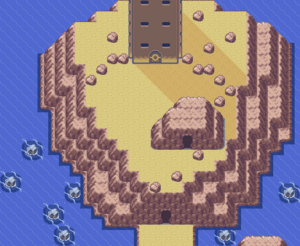 How to Find Sky Pillar
[
edit
]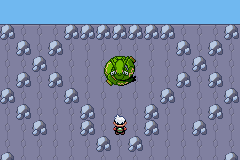 Sky Pillar is on Route 131. To get there, you need to beat the Elite 4 (On Ruby and Sapphire) or have cleared the Team Magma Hideout and Seafloor Cavern (Emerald) and have a Mach Bike. To get there from Pacifidlog, head east, pass the Sis and Bro and the Female swimmer, then go North between the Male and second Female Swimmer. There should be a gap in the rocks. Go west, follow the path, and you have reached Sky Pillar.
Follow the cave through, and you will come out viewing a tower. You can get Pokémon from around level 48 to around level 68 in the tower (the level increases at you climb). At the top there is the Legendary Pokémon Rayquaza, at Level 70. It is a Dragon- and Flying-type and is powerful. To get to the top, you need to use your Mach Bike to navigate the cracks to reach the top. You need to use the Mach Bike here to quickly get over the cracks in the ground.
Strategies to catch Rayquaza
[
edit
]
As with any legendary, save before you battle so you can switch the power off and on to get another go.
Stock up on balls, you probably need about 40 ultra balls (to be safe) and 15 Poké Balls (see below).
Get a Pokémon that can put Rayquaza to sleep or paralyze it, use the ultra balls then because you have more chance to catch it.
The Poké Balls are used for when Rayquaza uses Fly, use them because it doesn't waste a move and there is less chance of catching it when it is flying. Catching Rayquaza with a Poké Ball is also one of the best things to brag about (it is possible).
Entrance
[
edit
]
Floors (Emerald only, first visit)
[
edit
]
Pokemon Found
[
edit
]
1F, 2F, 3F
[
edit
]