Jump to navigation
Jump to search
New Pokémon
Ruby
Sapphire
Emerald
Swablu


Zangoose

Swablu


Seviper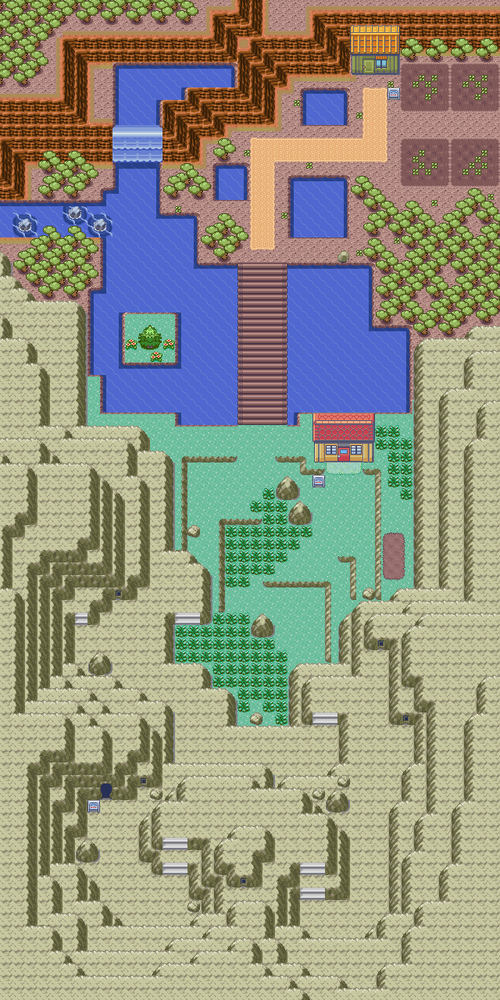 The first building you see as you leave Fallarbor Town is home to the Fossil Maniac and his brother. The Fossil Maniac is, as the name suggests, a fossil collector. He's dug an entire tunnel through the back wall of the house, just to look for fossils. Talk to the maniac's brother, and he'll give you TM28 Dig. In Pokémon Emerald only, talking to the Fossil Maniac will cause the second fossil in the Route 111 Desert to appear on top of Mirage Tower.
Just west of the house is a Gentleman and his Poochyena. Talking to him will reveal that his Poochyena roars at anything that gets close, making the Gentleman lonely. He will then give you TM05 Roar, blaming his plight on it.
Once you cross the bridge, go behind the yellow house with the red roof and collect the Berries from the eastern ledge. Then leap down and enter the house. This is Lanette's home. Talk to her to receive a Lotad Doll (Sapphire/Emerald) or Seedot Doll (Ruby). The next time you visit a Pokémon Center, her PC will be called Lanette's PC. Near Lanette's house is a man who will give you a Berry. Return here to get a new Berry each day, with five different berries to collect. When you're done, head south down the path.
In a light pinkish-tan rock, there hides a Carbos. There's also a hidden Protein further ahead, but it requires Rock Smash.
Other than the trainers, there's nothing else for you to do here, so head through the cave entrance and into Meteor Falls.
TM28 (Dig) - Obtained from the Fossil Maniac's little brother, inside his house
TM05 (Roar) - Obtained from the Gentleman with a Poochyena
Energy Powder (Emerald only) - In the northeast, behind two trainers
Seedot Doll (Ruby only) - Obtained from Lanette after talking to her in Fallarbor Town
Lotad Doll (Sapphire/Emerald only) - Obtained from Lanette after talking to her in Fallarbor Town
Rare Candy - In the small patch of land west of the top of the waterfall (requires Surf and Waterfall)
Revive - hidden from most north-western square of land after crossing the bridge.
Persim Berry x6 - Soft soil patch near Lanette's house
Carbos - In the pinkish-tan rock behind the Pokémaniac (Hidden)
Protein - Above the first set of stairs (Requires Rock Smash)
Trainers
[
edit
]
Pokémon found here
[
edit
]