From StrategyWiki, the video game walkthrough and strategy guide wiki
Route 6 is a tiny little road that connects Vermilion City with Saffron City. The building in the upper right is the entrance to the Underground Path that also connects the two cities. The Underground Path will be closed until the Power Plant fiasco is fixed.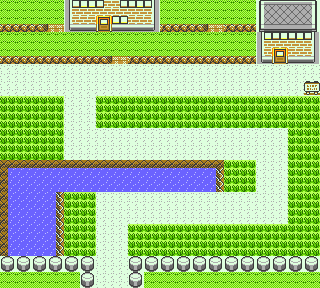 North through short Route 6 is the only way you can go from Vermilion City. A tunnel here links Route 6 to Cerulean City, but it will be closed until you fix the power outage. Two trainers have been added to this route in Crystal that weren't present in Gold and Silver.
Trainers (Crystal only)

Pokéfan Allan: 2800

Pokéfan Rex: 2800
Pokémon found
[
edit
]
Route #6 encounters
Gold
Silver
Crystal
Morn
Day
Night
Morn
Day
Night
Morn
Day
Night
Abra
10%
10%
10%
10%
10%
10%
N/A
N/A
N/A
Magnemite
10%
10%
10%
10%
10%
10%
20%
20%
20%
Rattata
N/A
N/A
N/A
N/A
N/A
N/A
30%
30%
0%
Raticate
N/A
N/A
N/A
N/A
N/A
N/A
10%
10%
5%
Jigglypuff
N/A
N/A
N/A
N/A
N/A
N/A
5%
5%
5%
Pidgey
50%
50%
0%
30%
30%
N/A
N/A
N/A
N/A
Bellsprout
30%
30%
20%
30%
30%
20%
N/A
N/A
N/A
Oddish
0%
0%
60%
0%
0%
30%
N/A
N/A
N/A
Snubbull
N/A
N/A
N/A
N/A
N/A
N/A
30%
30%
1%
Granbull
N/A
N/A
N/A
N/A
N/A
N/A
5%
5%
0%
Meowth
N/A
N/A
N/A
20%
20%
30%
0%
0%
30%
Drowzee
N/A
N/A
N/A
N/A
N/A
N/A
0%
0%
30%
Psyduck
N/A
N/A
N/A
N/A
N/A
N/A
0%
0%
10%