Jump to navigation
Jump to search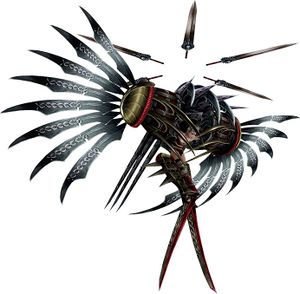 Paine's special dressphere. When activated, Rikku and Yuna temporary flee. This dressphere allows Paine to transform into a one man, "three-member party" for devastating attacks. The complete path of a Garment Grid must be traveled during a battle in order to have the option to summon this sphere, so it is best used with a small grid such as Unerring Path. The main section focuses on magical attacks, the Dextral Wing inflicts both damage and status ailments, while the Sinistral Wing focuses on defense. Note that in order to complete this sphere to 100% two key items must be obtained.
Obtained by - Awarded after talking to Tromell at Macalania Woods four times during Chapter 1.
Victor Primoris and Corpus Invictus
[
edit
]
Two key item need to be collected in order to learn Break HP Limit and Break Damage Limit.
Victor Primoris is located on a ledge just over the side of the northernmost curve on Mi'ihen Highroad. You must have a chocobo to reach the chest. Use the chocobo and jump several times at the feather located here for this item.
Corpus Invictus is located in a chest inside the secret dungeon of the Thunder Plains. This dungeon is opened by defeating all the fiends attacking the Lightning Towers during Chapter 5.
Attributes
[
edit
]
| Attribute | Increase | Attribute | Increase |
| --- | --- | --- | --- |
| HP | | MP | |
| Strength | | Magic | |
| Defense | | Magic Def. | |
| Agility | | Accuracy | |
| Evasion | | Luck | |
Commands
[
edit
]
Full Throttle
Attack
Throttle
Fright
Sword Dance
Dextral Wing
Dextral Arts
Stamina
Mettle
Reboot
Sinistral Wing
Sinistral Arts
Stamina
Mettle
Reboot
Abilities
[
edit
]
Full Throttle
Name
AP
MP
Description
Requirements
Attack
0
0
Attack one enemy
None
Fright
20
0
Damage and inflict Confusion and Delay on one enemy
Assoil
Aestus
0
0
Deals fire damage to one enemy
None
Winterkill
0
0
Deals ice damage to one enemy
None
Whelmen
0
0
Deals water damage to one enemy
None
Levin
0
0
Deals lightning damage to one enemy
None
Wisenen
10
0
Reduce one enemy's HP by 3/4
None
Fiers
20
0
Deal critical damage to one enemy
Wisenen
Deeth
20
0
Instantly defeat one enemy (sometimes fails)
Fiers
Assoil
20
0
Deals holy damage to one enemy
None
Sword Dance
30
0
Damages all enemies
Fright
Ribbon
0
0
Guards against status ailment
None
Double HP
20
0
Doubles max HP
None
Triple HP
30
0
Triples max HP
Double HP
Break HP Limit
20
0
Allows max HP to exceed 9,999
Corpus Invictus
Break Damage Limit
20
0
Allows max damage to exceed 9,999
Victor Promoris
Dextral Wing
Name
AP
MP
Description
Requirements
Venom Wing
0
12
Inflict damage and Poison on one enemy
None
Blind Wing
0
12
Inflict damage and Darkness on one enemy
None
Mute Wing
0
12
Inflict damage and Silence on one enemy
None
Rock Wing
10
12
Inflict damage and Petrification on one enemy
None
Lazy Wing
0
12
Inflict damage and Sleep on one enemy
None
Violent Wing
10
12
Inflict damage and Berserk on one enemy
None
Still Wing
10
12
Inflict damage and Stop on one enemy
None
Crazy Wing
10
12
Inflict damage and Confusion on one enemy
Violent Wing
Stamina
0
0
Restore HP to one character
None
Mettle
0
0
Restore MP to one character
None
Reboot
10
0
Revive one KO'd character
None
Ribbon
0
0
Guards against status ailment
None
Double HP
20
0
Doubles max HP
None
Triple HP
30
0
Triples max HP
Double HP
Break HP Limit
20
0
Allows max HP to exceed 9,999
Corpus Invictus
Break Damage Limit
20
0
Allows max damage to exceed 9,999
Victor Promoris
Sinistral Wing
Name
AP
MP
Description
Requirements
Steel Feather
0
12
Raises the party's Strength
None
Diamond Feather
0
12
Raises the party's Defense
None
White Feather
0
16
Lowers the Strength of all enemies
None
Buckle Feather
0
16
Lowers the Defense of all enemies
None
Cloudy Feather
10
16
Lowers the Magic of all enemies
None
Pointed Feather
10
16
Lowers the Magic Defense of all enemies
Cloudy Feather
Pumice Feather
10
38
Casts Haste on the party
None
Ma'at's Feather
10
0
View detailed information about one enemy
None
Stamina
0
0
Restore HP to one character
None
Mettle
0
0
Restore MP to one character
None
Reboot
10
0
Revive one KO'd character
None
Ribbon
0
0
Guards against status ailment
None
Double HP
20
0
Doubles max HP
None
Triple HP
30
0
Triples max HP
Double HP
Break HP Limit
20
0
Allows max HP to exceed 9,999
Corpus Invictus
Break Damage Limit
20
0
Allows max damage to exceed 9,999
Victor Promoris