Jump to navigation
Jump to search
Mission Briefing
[
edit
]
Narration: For some time, Core scientists had been experimenting with a new type of all-terrain tank. But so far, their mindware had failed to adapt fully to the modal difficulties involved in controlling such a machine. Personality hybrids had shown some promise, but the prototypes had been destroyed by the Arm during the invasion of Core Prime. Now it appeared that the Arm was conducting similar experiments, using Rougpelt as a testing ground.
Intell-tap The Arm Gate has been located atop the ruins to the northeast. The guard garrison includes the Arm's experimental Spider Tanks. Be warned that the Spiders are armed with a paralyzing beam. Destroy the Spiders and Capture the Gate.
Expect meteor showers.
Capture the Arm Galactic Gate.
DO SO NOW
Details
[
edit
]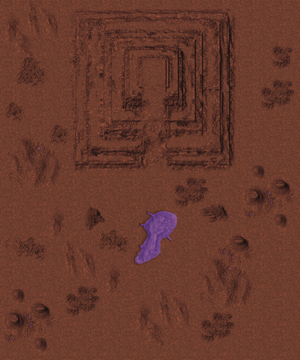 Starting units: Commander, 4 AKs, 1 Thud, 1 Pyro, 1 Can, 1 Construction KBot
There isn't much time to get started here, and the Arm base is going to be hard to break even once an assault force is assembled. Get started by moving southwest to find a collection of metal deposits. Build up and get some Storm and Crasher KBots out to defend the new structures. The Crashers will be especially important, because Arm aircraft will not leave the base alone. For now the occasional Spider will be the only ground-based attack, but Arm's Phoenix and Brawlers will keep coming back until they're destroyed. On the other hand, Arm does not have an Aircraft Plant, so once they're destroyed, you won't have to deal with them again.
Reclaim as much metal as possible from the enemy aircraft, and get to work building up the Core base. You'll want an Advanced Radar Tower and an Advanced Vehicle Plant so you can make best use of Diplomats, plus some Instigators and Goliaths to push into that Arm stronghold. Build the tower north of your base to reveal the Arm defenses all over the pyramid structure that takes up most of the northern half of the map.
The Gate is at the top of the pyramid, so feel free to hammer the rest of the area with the Diplomats. Once you've significantly thinned out the targets (or destroyed everything that you can without getting too close to that Gate), send in your ground forces to clean up.
Remember to focus on one unit or structure at a time, especially anything that might do significant damage quickly. Use the sight the units afford you to target the attacks of your Diplomats more accurately, but remember to be careful of the Gate (and your own units). Once the pyramid is clear, go into seek & destroy mode to clear the region, and then send in your Commander to capture the Gate.