Jump to navigation
Jump to search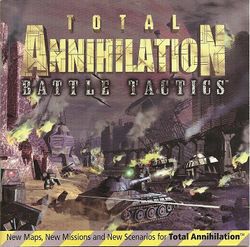 Neoseeker Related Pages
Links
Total Annihilation: Battle Tactics is the second expansion for Total Annihilation. It was released 2 months after The Core Contingency, and has a decidedly different focus from the previous expansion (and the original game). While The Core Contingency focused on expanding the story and scope of Total Annihilation, Battle Tactics is focused on giving the player a more tactical game. This makes the expansion ideal for new players trying to get a handle on the tactical side of the game for both single and multi-player missions, as well as the experienced player that may need to expand their tactical abilities.
The missions in Battle Tactics are segregated into four campaigns: Very Short, Short, Medium, and Long. The Very Short missions tend to cover very basic tactics, while the long missions are meant for more experienced players with more complicated tactics and some surprises. Overall, the basic features come down to 100 new missions, 4 new units, new keyboard shortcuts (also part of the 3.1 patch for the main game), and 6 new multiplayer maps.
This expansion notably does away with the economic and construction aspects of the game for many of the missions. Difficulty of the missions can be quite variable, and this along with the change in focus from the core gameplay of Total Annihilation lead to a cool reception from critics and players.
Table of Contents