Jump to navigation
Jump to search
Mission Briefing
[
edit
]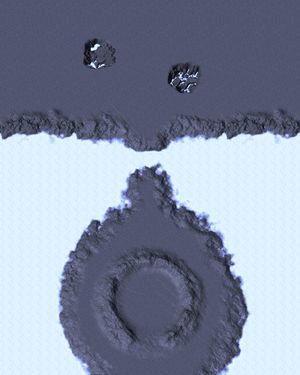 Scouts have found the primary concentration of Arm forces on Temblor. They have taken our outpost at Cloud Isle. The bottomless vapor pits will only protect them for so long - though it may hold us back temporarily, it also limits their options - a perfect opportunity for slaughter!
Intell-Tap:
The implosion device is nearly ready. Finish quickly here, and move all remaining forces to Gelidus.
Arm may have developed a new-tech fusion reactor. It has incorporated a cloaking mechanism. Destroy the reactor along with everything else. In a few days the technology will be obsolete...
To complete this mission you must destroy all Arm units and mines.
DO SO NOW
Map Info
[
edit
]
| Planet | Size | Tidal Strength | Solar Strength | Wind Speed | Gravity | Max Units | Water Damage | Surface Metal | Moho Metal |
| --- | --- | --- | --- | --- | --- | --- | --- | --- | --- |
| Slate | 8x10 | 20 | 20 | 2900-4000 | 112 | 250 | 0 | 3 | 40 |
Earthquake

| Radius | Density | Duration | Interval |
| --- | --- | --- | --- |
| 900 | 0.5 | 3 | 200 |
Quake Damage

| Area of Effect | Edge Effectiveness | Damage |
| --- | --- | --- |
| 512 | 0.75 | 50 |