From StrategyWiki, the video game walkthrough and strategy guide wiki
Jump to navigation
Jump to search
Table of Contents
Stuff Packs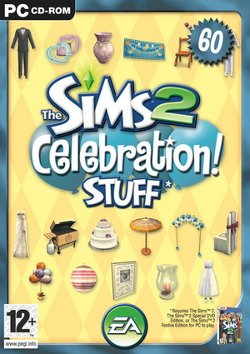 The Sims 2: Celebration! Stuff was released on April 3, 2007. It contained new objects designed to help sims celebrate parties. It also contained two new houses.
Celebration! Stuff comes with two new collections, Birthdays and Weddings. Both collections come with new objects designed for those parties and also contained objects contained in the original game. The Wedding collection contains new walls and flooring as well as new wedding objects like flowers and a new wedding arch. Clothing in the game also comes with new formal wear for brides, grooms and bridesmaids.
Features that were contained in other expansion packs that are also introduced were.
Influence
Lifetime Wants
Attraction and Chemistry
Turn Ons and Turn Offs
Inventory
Door Locking
Rename Lot Button
Collections upgrades
Game Encyclopaedia
Build Mode enhancements
Icon showing in neighbourhood view
Hair upgrades