Jump to navigation
Jump to search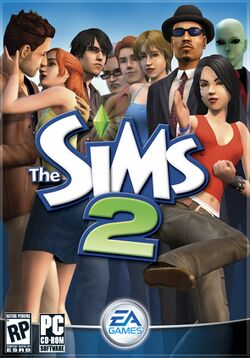 | | |
| --- | --- |
| Designer(s) | Patrick J. Barrett III, Matthew L. Brown, Cooper Buckingham, Kacper Centowski, Jenna Chalmers, Shannon Copur, Michael Cox, Seth Olshfski, Amy Dallas, Kevin Gibson, Daniel Hiatt, Kevin Hogan, Hunter Howe, Creighton Hurt, Trevor Jalowitz, Lyndsay McGaw, Ashley Monif, Solveig Pederson, Todd Reamon, Kana Ryan, Lauren Wheeler, Jeannie Yang, Stuart McArther |
| Genre(s) | Simulation |
| Players | 1 |
| Modes | Single player |
| Latest version | 1.0.0.1022 / 1.0 Rev C |
| Rating(s) | |
Neoseeker Related Pages
Links
This guide is for the original PC game. For console versions, see The Sims 2 (console). For the PSP version, see The Sims 2 (PlayStation Portable). For the Game Boy Advance version, see The Sims 2 (Game Boy Advance). For the Nintendo DS version, see The Sims 2 (Nintendo DS).
The Sims 2 is a strategic life simulation computer game developed by Maxis and published by Electronic Arts. It is the sequel to the best-selling computer game, The Sims, which debuted on February 4, 2000. Mark Mothersbaugh composed the music for the game.
The Sims 2 essentially revolves around the same concept as its predecessor. Players are free to control their Sims (as they interact with their virtual surroundings) engaging in various mundane activities and forming relationships in a manner similar to real life. Like its predecessor, The Sims does not have a defined final goal; gameplay is open-ended. Sims 2, however, has life goals, wants and fears, the fulfillment of which can produce both positive or negative outcomes. All Sims age, and can live over 100 Sim days depending on the degree of which their aspirations are fulfilled (although some items can extend a Sim's lifespan further).
The Sims 2 builds on its predecessor by allowing Sims, the simulated human characters, to age through six stages of life and incorporating a more powerful 3D graphics engine. It was first released on September 14, 2004 and became an instant success, having sold a then-record one million copies in its first ten days.In addition to its commercial success, The Sims 2 was well received by critics. As of July 26, 2007, The Sims 2 has sold more than 13 million units worldwide and is the best-selling PC game of 2004. A sequel, The Sims 3, was announced by EA in November 2006 and was first released on June 2, 2009. As of April 2008, The Sims 2 website celebrated 100 million copies of The Sims series sold.
Game customization
[
edit
]
The Sims 2 is an extremely malleable game. Modders alter the game in ways as simple as creating a new floor texture of rocks or as complicated as writing entire patches for the game code to customize its behavior. Such modifications are all loosely referred to as "custom content." Specifically, custom content can be divided into four categories: exporting (creating Sims and lots in-game or using the game's included Body Shop and exporting them to a file), recoloring (creating a new texture for an object), meshing (creating an object or modifying its shape) and hacking (writing code that manipulates game and object behaviors).
The modding community for The Sims 2 is self-supporting, with more advanced modders writing tools and tutorials to help in creating custom content and modifying the game environment. The "Sims 2 Body Shop" is a program shipped with The Sims 2 that allows users to create custom clothing and body recolors, such as eyes, hair and skin tone. These custom created parts can be imported directly into the game, or can be uploaded onto the official The Sims 2 Exchange for other users to download and implement into their own games. Two elements that propagate customization are the official Sims 2 Exchange and the extensive network of fan sites that distribute custom content. More than 250,000 Sims and lots have been uploaded to the on the Official Site.
Gameplay differences
[
edit
]
Graphically, The Sims 2 is more detailed than The Sims and lets players view its world in full 3D. Unlike earlier Sim games, such as SimCity 2000, which used dimetric projection and fixed resolutions, the camera in The Sims 2 allows the player to view things from many angles. Sims themselves are much more intricately detailed than they were in The Sims. In The Sims, Sims are 3D meshes, but The Sims 2 introduces far more detail in mesh quality, texture quality, and animation capability. A Sim's facial features are customizable and unique, and Sims can smile, frown, and blink. The player can adjust, for example, a Sim's nose to be very large or very small in The Sims 2's Create-a-Sim. Texturing is still achieved through use of raster images, though it appears more lifelike. Movements are more smooth, natural and true to humans and Sims are in general more animated.
Sims have new experiences unavailable in The Sims, such as aging and eventual death. Sims can become pregnant and produce babies that take on genetic characteristics of their parents, such as eye color, hair color and personality traits. Genetics play a huge role in the game, and as such, the dominant and recessive genes are playing a bigger role than they did in the original Sims game. So if you take a blonde sim and a black haired sim, the child will probably have black hair, because it's a dominant color. Additionally, babies in The Sims 2 progress through life stages to become adults, while babies in The Sims only become children before ceasing to continue aging.
Table of Contents
Stuff Packs