From StrategyWiki, the video game walkthrough and strategy guide wiki
Jump to navigation
Jump to search
Table of Contents
Stuff Packs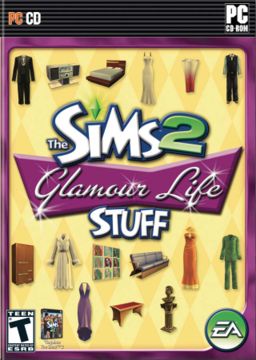 The Sims 2: Glamour Life Stuff was released on August 31, 2006. It is the second official stuff pack for The Sims 2. Like Family Fun Stuff, it didn't contain new object types but merely new sorts of existing objects.
Objects contained in this stuff pack were related around a central theme that was designed to make sims' houses look richer. It also contained new artwork as well.
Clothing in this pack was centred around rich and formal clothes. The pack also contained new houses as examples of what can be done with this pack.
It also contained features started with other expansion packs. They were
Influence
Lifetime Wants
Attraction and Chemistry
Turn-Ons and Turn-Offs
Inventory
Door Locking
Rename Lot button