Jump to navigation
Jump to search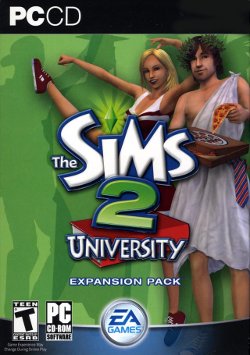 The Sims 2: University is the first expansion pack for the strategy/simulation computer game The Sims 2. University includes College Towns, a special type of neighborhood in which Young Adult Sims may attend College. Sims now have Lifetime Wants and Influence, as well as numerous new social interactions. University has won two Editor's Choice awards from syndicated game review publications.
The main feature of this expansion pack is, of course, the addition of universities or 'college towns'. In this expansion pack you'll be giving your sims the full college experience, including studying, joinings fraternities and getting a side job at the coffee shop. The studying is hard but there are several benefits that will accompany your sim for a lifetime.
The new College Rock Radio station features songs from independent bands. All of the lyrics are pre-recorded in Simlish.
New songs in this expansion pack include:
"Come On" - Steadman
"The Conversation Is Over" - Acceptance
"Beautiful Life" - Charlotte Martin
"Outsider" - The Daylights
"Sway" - The Perishers
"Pretty People" - Dexter Freebish
"Very Very Rich Town" - Go Betty Go
Other Box Arts
[
edit
]
Table of Contents
Stuff Packs