From StrategyWiki, the video game walkthrough and strategy guide wiki
Jump to navigation
Jump to search
Table of Contents
Stuff Packs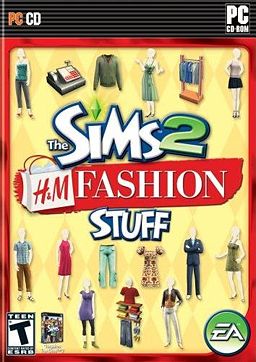 The Sims 2: H&M Fashion Stuff, also known as The Sims 2: Fashion Stuff is the fifth stuff pack. It was released on June 5, 2007.
Its main features come from real-life company H&M. In the pack, all the clothing was influenced in part by this company. This stuff pack also comes with three pre-made H&M stores. Two of them were designed for specific neighbourhoods.
New objects in the game included new shop objects such as mannequins and signage. It also includes objects that can create a catwalk. However, this is not functional and is purely visual.
Other features were included but were released in earlier expansion packs. These were
Influence
Lifetime Wants
Attraction and Chemistry
Turn-Ons and Turn-Offs
Inventory
Rename Lot button
Door Locking
Game encyclopaedia
Collections upgrade
Build Mode enhancements
Hair upgrades