Jump to navigation
Jump to search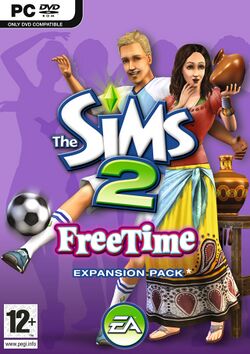 The Sims 2: FreeTime is the seventh expansion pack in the The Sims 2 PC game series. It was released on February 22, 2008.
The main feature you get in The Sims 2: FreeTime is the hobby system. Every time you do something, it affects enthusiasm in one of ten hobbies. Each hobby uses a combination of new and existing features. As an example, some new features are:
Restoring an old car to top condition
Playing at the basketball hoop
Greater variety of video games
Two new talent badges: Pottery and Sewing
Exploring the heavens with new telescope interactions
Bug hunting
Doing ballet
Jogging with family and friends
New foods to make
Watching movies on T.V.
As well as hobbies, another feature is the lifetime aspiration metre. When you fill it up, you unlock new abilities for your aspiration. New abilities include 3-Way calling, increased chances of getting twins and giving financial consulting. There are plenty of other features in FreeTime so get out there, explore the new neighbourhood and make the most of their time.
History
[
edit
]
The expansion pack was first announced in a flyer included in The Sims 2: Bon Voyage expansion pack said: "Now your Sims can enjoy hobbies! Your Sims will have fun taking up a variety of creative, intellectual, or active leisure-time pursuits. They can even meet Sims that share their interests and expand their social relationships. Develop your Sims' skills while they pursue their true pastime passions. Will your Sims stumble reaching for new goals or find a new sense of fulfillment?" The Sims 2: FreeTime was then officially announced on December 6, 2007.
This expansion pack was promoted on The Sims 2 website with several magazine-themed pages and a comic mini-series outlining the various hobbies and lifetime aspiration benefits.
Patches
[
edit
]
On the May 29th, 2008, a patch was released to solve several bugs. This patch should be downloaded to maximise your gaming experience. The patch can be downloaded from this link. [1]
Table of Contents
Stuff Packs
External links
[
edit
]
[2]-information page for The Sims 2: FreeTime.
Other links