Jump to navigation
Jump to search
This is a listing of all the bosses in the game.
Area Bosses/Theme Dungeon Bosses
Area Bosses are boss monsters which spawn on their own in a hunting area near a town. Theme Dungeon Bosses are bosses of their respective theme dungeon, found in an instanced map to prevent kill stealing. They are usually themed after the monsters they spawn with in that town. Most players are capable of soloing these bosses when they are close to its level.
Victoria Island
These are the bosses found on Victoria Island, the first continent where bosses are located. Every main town and theme dungeon on Victoria Island has a boss associated with it, with the exception of Nautilus Harbor, even though it is connected to Florina Beach.
Lith Harbor
Found at "Port Road: Forest Trail 2" near Lith Harbor.
Henesys
Mushmom is found at "Singing Mushroom Forest: Mushmom Forest Trail", directly accessible by walking right from Henesys. It is one of the oldest bosses in the game. Blue Mushmom spawns at "Blue Mushmom Forest" and is slightly stronger than the ordinary Mushmom.
Mushroom Castle
The boss of Mushroom Castle is the Black Viking, who helps the Prime Minister kidnap Violetta once again.
Perion
Found at "North Rocky Mountain: Gusty Peak" near Perion.
Kerning City
Found in "Swamp Region : Unseen Danger" and "Swamp Region : Deep Mire" outside of Kerning City.
Gold Beach
Found at "Shady Beach" at the end of Gold Beach.
Sleepywood
Zombie Mushmom is found at Ant Tunnel Square near the Swamps of Sleepywood. Jr. Balrog are found at the Cursed Sanctuary at the end of Sleepywood. It, too, is one of the oldest bosses. Snack Bar is located at Drake Cave: Cave Exit.
Ossyria
Ellinia-Orbis Ship
Crimson Balrogs sometimes appear on the Ship from Ellinia to Orbis, or vice-versa. Crimson Balrog is a flying enemy that travels in pairs and raids ships trying to carry passengers or cargo between Ossyria and Victoria Island.
Orbis
Found at "Garden of Darkness 2" in Orbis' Cloud Park.
El Nath
Snow Witch is found at "Icy Cold Field". Snowman is found at "Sharp Cliff 3". Riche is found at "Forest of Dead Trees IV".
The Lion King's Castle
The boss of the theme dungeon part of Lion King's Castle. Found at Ani's Jail.
Aqua Road
Found at Aqua Road: Seaweed Tower, very close to town.
Ludibrium
Rombot is found in the Eos Tower, in a hidden street off the 4th floor. Timer is found at Lost Time <2> in the Clock Tower.
Ellin Forest
Chao can be found at "Ellin Forest : Deep Inside the Cave". Ephenia is found at "Ellin Forest : Queen's Hiding Place".
Fantasy Theme World
Located at the end of Fantasy Theme World in the Fantastic Animal Show.
Summons Ratacula and Creeper Scarlion respectively.
Leafre
Manon and Griffey are found in Leafre near Kentauruses. Leviathan is an Area Boss that spawns in its own map, the Leviathan's Gorge.
Mu Lung
Master Dummy spawns at the end of the Practice Field in a Mystic Gate located at "Practice Field : Advanced Level", Tae Roon spawns at the end of the Wild Bear area in a map called "Territory of Wandering Bear", and King Sage Cat spawns at the map called "Goblin Forest 1" of Mu Lung.
Herb Town
Bamboo Warrior spawns at "60-Year-Old Herb Garden". Giant Centipede spawns at "80-Year-Old Herb Garden".
Golden Temple
SnowFro is located at "SnowFro's Lair", at the end of the Forest of Training. Ravana is located at the end of the Goblin Caves. When defeated, a powerful helmet to prove it has been conquered can be acquired.
Ariant
Found at "Dry Desert" in Ariant.
Magatia
Rurumo spawns at "Lab - Unit 103" on the Zenumist Side. Security Camera spawns at "Lab - Area C-1" on the Alcadno Side. Chimera spawns at a map linking the Zenumist and Alcadno Laboratories, called "Lab - Secret Basement Path". Magatia.
Temple of Time
These are found at the end of their respective element areas in Temple of Time.
Twilight Perion
Found at "Tempest Grave" at Twilight Perion.
Grandis
Heliseum
Each of these bosses can be found at the end of their respective area in the Tyrant's Castle.
Masteria
Alien Invasion
This is the boss of the New Leaf City alien area.
Haunted House and Crimsonwood/Phantom Forest
Spawns at Phantom Forest: Twisted Paths, near the town of Crimsonwood Keep. In a rare exception, both these bosses spawn on a large number of maps throughout the forest, to give the illusion that they are one monster moving throughout at random. Headless Horseman also spawns at Phantom Forest: Hollowed Ground, near the town of Haunted House.
World Tour
Zipangu
Mushroom Shrine
The boss of Mushroom Shrine is, fittingly, the most powerful Mushroom monster in the game, and also one of those with the spawn of 23 to 48 hours.
Black Crow is found at the Buddha Shrine/Pine Forest area of Zipangu's Mushroom Shrine.
Showa Town
The Yakuza are the Japanese version of the Mafia. Found in Zipangu's Showa Town. Bodyguard A will transform into Bodyguard B and subsequently into The Boss when killed.
Singapore
CBD Ulu City
Located at the end of Ulu City in a special area called Ruin of Krexel. It's so huge that the only way to get close enough to attack it is to actually stand on it. It's even bigger than it appears here.
Boat Quay Town
Located at the end of Boat Quay Town inside the Ghost Ship.
Summons Selkie Jr. and Mr. Anchor.
Malaysia
Kampung Village Fantasy Theme Park
Party Quests
Party Quests are cooperative tasks where a group of people progress through a series of challenges which normally culminates in a boss fight. More specific information on the stages preceding these boss fights can be found on the Party Quests page.
King Slime
The boss of First Time Together, for levels 50 and up.
Alishar
The boss of Dimensional Crack, for levels 50 and up.
Papa Pixie
The boss of Remnant of the Goddess, for levels 70 and up.
Frankenroid
Two possible bosses of Romeo and Juliet, for levels 70 and higher.
Summons
Poison Golem
The boss of the Forest of Poison Haze, for levels 100 and up. Defeating one form will cause the next to appear.
Summons
Lord Pirate
Two possible bosses of the Lord Pirate party quest, for levels 100 and up.
Dragonoir & Dragon Rider
The bosses of the Dragon Rider for levels 120 and up.
Rex
The boss of the party quest in El Nath, for levels 150 and up.
Summons
Geist Balrog
This is the boss of the MapleStory/Amorian Challenge Party Quest, for married characters over the level of 40.
Twisted Masters
These are fought at the very end of the Crimsonwood Keep Party Quest.
After Red Nirg's defeat, two ninjas are summoned
In the JMS version, Scarlet Phoenix and an Azure Ocelot need to be killed for a entry into the Keep.
JMS Version has another Twisted Master, Nagrom.
Introduction
Tier 1
Tier 2
Tier 3

Tier 4
Job Advancement Bosses
Adventurers
3rd job
Each adventurer must beat their job's trainer to complete the third job advancement. These can only be accessed by players on the Third job test, through a hidden map accessed by a portal to another dimension.
Summons
4th job
Each adventurer must beat a special version of Manon and Griffey to complete the fourth job advancement. These can be accessed by entering Manon and Griffey's regular forests. Note, nobody else can enter the map while you are inside it.
Resistance Bosses
These are bosses that are fought by the Resistance to advance their skills.
Major Bosses
These are the most powerful bosses in the game, and the most significant to the lore of the Maple World. All of them drop skills that are crucial to 4th job characters, and several give special items to prove that a player has conquered it. Their release typical marks a major step forward in a version's history.
Pianus
Pianus is found at the Cave of Pianus through 'A Grave of a Wrecked Ship' at Aqua Dungeon. Go to a glowing doorway to enter 'A Dangerous Cave', which, at the end, you'll find Pianus, who spawns every 36 and 24 hours. The Right Pianus spawns every 24 hours, while his reflection, the weaker Left Pianus, is 36. MapleSEA recently released this description of Pianus:
"A heavenly fish who had once enjoyed the life of immortality, was banished into the world of MapleStory for eating up his friend simply because he was famished. Thrown into The Cave of Pianus, he is all alone, by himself, and would occasionally project an image of himself to relieve his loneliness."
Pianus can attack with a laser beam and a 10 ton metal block. He is also known as the Doom Flounder. To prove that a player has conquered Pianus, they can perform a quest which grants them the Red Musketeer Cape.
Summons
Ergoth
Found at the end of the Guild Quest located in Perion-Sharenian. It's a demon that Sharen the 3rd, who ruled over the great empire of Sharenian in the highlands, summoned in order to protect the legendary jewel Rubian. Ergoth betrayed him and destroyed Sharenian and using the Rubian's power, making the ruins of Sharenian into his own empire of undead beasts. Centuries later, the ruins of Sharenian were discovered by humans, and when intruders went in to explore the ruins, they accidentally touched the Rubian, causing demon Ergoth, who had laid dormant for a long time, to awake.
Ergoth
Ergoth's Statues
Papulatus
The Papulatus, and related forms, are all located in the last map of Ludibrium's dungeon, The Clock Tower, called "Ludibrium: Deep Inside of Clock Tower". MapleSEA recently released this description of Papulatus:
"Papulatus Clock Boss is an evil monster who hogs the Time Sphere and likes to steal the power in Ludibrium. With him around in the Clock Tower, Ludibrium will never enjoy the peace and harmony they once had."
Papulatus is a monster from the Maple World's parallel dimension. It entered through a crack in the dimension caused by Ludibrium's failing power supply, the Time Sphere, with several other monsters. The Time Sphere is made by mixing Tachions and Mysterious Powder, which is Papulatus' energy source as well. Papulatus contaminates these Tachions, draining the Time Sphere's power. Some of the other monsters that followed Papulatus through the Crack are carrying pieces of it, which are needed to seal the hole. Once the pieces have been acquired from these monsters, namely Gigantic Spirit Viking and Grim Phantom Watch, the crack can be repaired, causing Papulatus' escape route to be blocked and driving it into the open. Once this occurs, players can finally confront the monster that is disturbing the Maple World and end its leeching. However, once Papulatus has been defeated, there is still one last task: Eliminating the evil force that still remains in the contaminated Tachions. The only thing that can destroy such a dark aura is the fires of El Nath's volcanoes, so the Dark Tachions must be taken there. This force is what has caused the normally innocent toys of Ludibrium to transform into monsters. After all this, Ludus Lake will finally be able to return to normal.
Approach Mr. Bouffon at Path of Time in Ludibrium. He will let you know how to get to Papulatus Clock Boss. Papulatus attack with lightning bolts, a blast of flame and by chances turn players HP and MP to 1. It can also dispel everyone on the map, causing deadly situations for low hp classes. Upon completing Mr. Bouffon's quest, a player can obtain the Ludibrium cape as proof they have slain Papulatus.
Zakum
Zakum is located in the Dead Mines of El Nath, one of the main dungeons. Highly coveted by those above Level 100 for the exclusive Zakum Helmet. In a 4th Job Advancement quest, it tells the story of Zakum's rise.
Zakum was a spirit sealed in a tree deep in the mines of El Nath's volcano. A mining town that once existed nearby eventually discovered this tree. At the time, it had no malevolent notions, but the greed of the miners corrupted it. As the spirit was corrupted, it grew smarter, and finally became capable of controlling the town's populace. It forced them to build an enormous statue in tribute to it. The now evil spirit of Zakum possessed the statue, subjugated all the humans and eventually killed everyone in the town. Zakum now rests deep in the lava caves, waiting for powerful players to challenge his might.
Chaos Zakum
The same as Zakum, but stronger and has more skills such as Seduce, Zombify, Reverse Keys, and Potion Lock. It also drops the better Chaos Zakum Helmet.
Horntail
Horntail is a powerful boss in the game. It drops a powerful necklace called the Horntail Necklace, which adds massive amounts to every stat. Located deep in Leafre, in the Cave of Life. Several Leafre quests reveal what has occurred to bring Horntail into battle.
The forest of Leafre is protected by the Nine Spirits dragon, a kind and gentle creature. The Nine Spirits Dragon has set up a barrier which shields the forest from evil. Horntail, a power hungry dragon, began to rebel against the Nine Spirits rule, and started uniting the evil dragons. This group of evil dragons began their assault on the town, almost entirely wiping out the Dragon Squad, a team of human fighters sent to defeat Horntail. This was a horribly disgraceful action coming from a Dragon. During this battle, Horntail gravely injured the old Nine Spirits, and took the egg of the Nine Spirits Dragon. He then hid out deep in the Cave of Life to recover his strength. Horntail's minions still overtook the Dragon Forest in Leafre. His evil power is so great that it has even gained the power to corrupt the other monsters, turning them pitch black. Now, the strongest players must band together to defeat this cruel dragon, save the Nine Spirits Dragon Egg, and protect Leafre once and for all.
Chaos Horntail
Chaos Horntail is a stronger version of Horntail. It drops a powerful necklace called the Chaos Horntail Necklace, which adds massive amounts to every stat. Located deep in Leafre, in the Cave of Life.
Pink Bean
Found at the end of the Temple of Time of Ossyria. While a mysterious man named Kirston attempts to summon the Black Mage using the Goddess's Mirror, he accidentally ends up summoning Pink Bean.
Chaos Pink Bean
Found at the end of the Temple of Time of Ossyria. While a mysterious man named Kirston attempts to summon the Black Mage using the Goddess's Mirror, he accidentally ends up summoning Pink Bean.
Balrog
An evil spirit was once sealed in the Underground Temple in Sleepywood by Tristan, a legendary hero who died in place of Manji because of this evil spirit, Balrog. However, Balrog has been resurrected from the Darkness, the reason behind its resurrection is not known. Upon Balrog's death it mentions that one day his full power will be return to him and rule the Maple World again, implying that we will see more of Balrog in the future.
Von Leon
Von Leon was once the king of an El Nathian village, and ruled alongside his wife Ifia. A century ago, Ifia was murdered, and he found a Cygnus Knight crest on her body, making him believe they murdered her. With this, he seeked revenge, and joined the Black Mage, who set up the murder to make it look like the Cygnus Knights did it. When the Black Mage was sealed, Von Leon cast a spell to kill everyone in his village and to conceal his cancel until the Black Mage's return. Most of the villagers, now ghosts, could not rest in peace due to Von Leon turning into a villain, and decided it was time for his demise. His dead wife, Ifia, tries to talk to Von Leon but he does not see her because he became too much of a villain.
Cygnus
In the future, Cygnus became interested in the World Tree, and decided to search for it. When she found it, she fell into one of the Black Mage's traps. He corrupted Cygnus and her knights, leading to Ereve descending to Victoria Island due to it not being held up by Cygnus's magic. Empress Cygnus leads her knights on an attack on the rest of the Maple World. However, according to Shinsoo in the present, this future is not real and is instead one of the Black Mage's dreams.
| | | | |
| --- | --- | --- | --- |
| | Summons | Summons | Summons |
Arkarium
Arkarium is another one of the Black Mage's commanders. He is responsible for the Mystic Gates appearing throughout Maple World. He attempts to unseal the Black Mage by traveling through the Crack in Time in Temple of Time, and must be stopped by the people of Maple World.
Summons
Hilla
Hilla is another one of the Black Mage's commanders. She used to be a chief shamaness of Azwan until she decided to hand over the city of Azwan to the Black Mage, receiving infinite power, youth, and beauty in return. She revived the dead population of Azwan to use as her army.
Magnus
Magnus is yet another one of the Black Mage's commanders. He has been exiled from Grandis for a century due to abusing his powers. Assisting Darmoor, the Transcendence of Life in Grandis, he weakened Heliseum in exchange for power and leading Specters toward it. The former Kaiser sacrificed himself to destroy Magnus's army, and severely weaken Magnus. However, Darmoor's power helped Magnus recover, eventually reaching his full power again and stealing the former Kaiser's sword, granting him even more power. Now it is up to the current Kaiser, Angelic Buster, and the Maple World to stop him once and for all.
Root Abyss
When Damian sealed up Alicia the World Tree in Root Abyss, he left behind four seal guardians to prevent Alicia from escaping and regaining her abilities by contaminating the Root Abyss with darkness. It is up to Maple World to rescue Alicia from these bosses.
Von Bon
The first of the four seal guardians is Von Bon, the time magician. His trademark attack involves summoning cracks in time, which are large clocks that appear in random spots on the field. The affect on the timer depends on the color of the clock Von Bon is standing on. For each white clock he stands on, the timer decreases by 7 seconds. For each black clock he stands on, the timer increases by 7 seconds. The timer will stay the same if he stands on both at once, however. Once his health is low enough, he stops using these clocks. He can also use a skill that sends you to a spot you were previously standing or located at. This attack can be dangerous depending on the direction his attacks go.
He has several deadly attacks. One of them involves whacking you with his staff up close. This attack isn't as dangerous, however. Another attack involves firing a white orb from his staff, which takes away a high % of your HP, even killing some people. This can be avoided by ducking (not possible for jobs such as Mechanics) or jumping over it. Another involves him jumping into the air and pounding the ground, which takes away a higher % of your HP. This can be simply avoided by jumping. His last attack involves him teleporting to a random spot and creating a tornado around him which causes super knockback and deals a fixed % of your HP, though not as much. Melee classes will have a hard time with this attack, since they most likely won't be able to get close enough to attack him.
Chaos Von Bon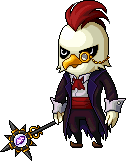 Von Bon
Pierre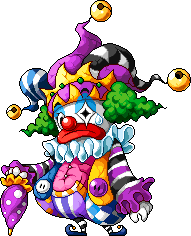 Pierre
Crimson Queen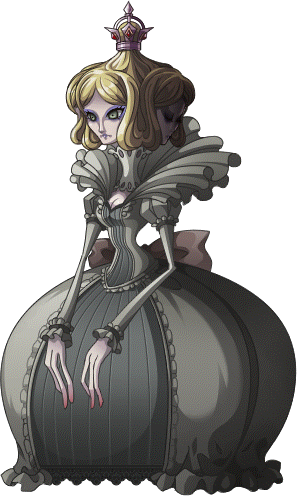 Crimson Queen
Vellum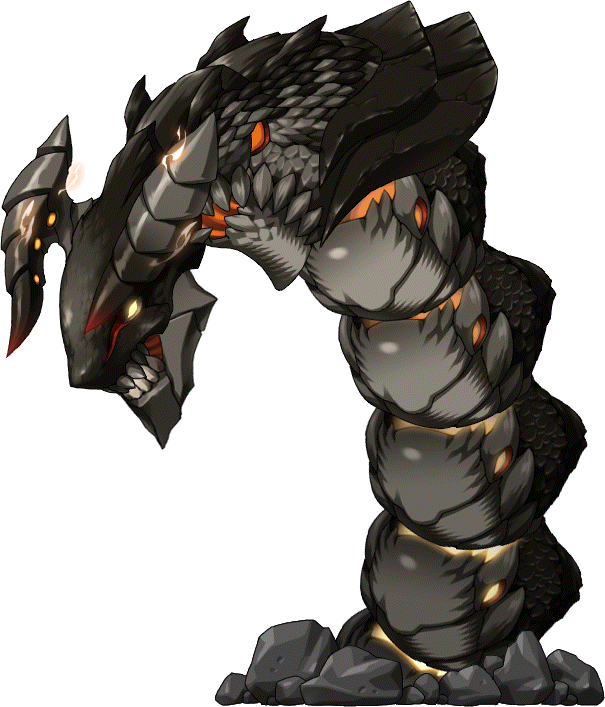 Vellum