From StrategyWiki, the video game walkthrough and strategy guide wiki
Korean Folk Town

[

edit

]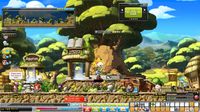 Korean Folk Town is one of two towns based on Korean culture, sharing that distinction with the area of Mu Lung. Bamboo huts are scattered around the town. Korean Folk Town is located on a small island in Ludus Lake, alongside its twin island Omega Sector, both of which are used to keep Ludibrium afloat via two massive towers. There are two ways to travel to Korean Folk Town: using the giant magical "storybook" portal at the end of Aqua Road, at a point called "The Sharp Unknown"; or by going down Helios Tower from Ludibrium to use the giant magical "storybook" portal in the tower's library on the first floor. The Cracked Dimension in Ludibrium is causing the books of Helios Tower's Library to be scattered and is destroying the stories. Many of the quests here involve setting the legends straight and returning their storybooks to the proper places. One emerges from a well, climbing into the colorful town from Aqua Road. As in other towns, Korean Folk Town contains some people who give quests and also sell various items, potions, and equipment. Korean Folk Town also serves as a gateway between Ludibrium and Aqua Road. Korean Folk Town does not include a World Tour NPC.
Black Mountain
[
edit
]
On the right side of town, you will find the entrance to Black Mountain. There, you can find monsters taken from Korean mythology. One of these monsters is the Moon Bunny that looks the same as the one that must be protected in Henesys Party Quest. The early Black Mountain area has a sunset background, while later areas as well as early divergent paths have a night sky background. At the end of the black mountain, there are monsters called King Goblins, which appear in three colors: blue, green, and yellow.
Monsters

Blue King Goblin (138)

Green King Goblin (139)

Yellow King Goblin (140)
The NPC's in Korean Folk Town are characters found in Korean Folktales. Each character provides a quest fairly related to the original stories they are from.