From StrategyWiki, the video game walkthrough and strategy guide wiki

Availability: see MapleStory/Availability#Accompaniments.
Requirements: 3-6 players, level 130+ (recommended level: 130-149).
Time Limit: Varies (Average total time needed: 3-4 minutes)
Max Entries Daily: 5
Before attempting this Party Quest, consider starting the following Ordinary quests, as they involve either defeating monsters found inside the PQ, or collecting items from them.
Stage 1: On the way to the Pirate Ship
[
edit
]
Time limit: 4 minutes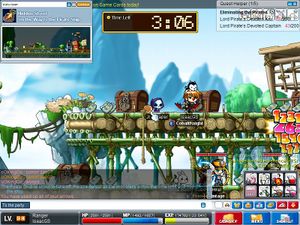 The Party Quest starts out on regular Herb Town bamboo planks. Your party must rush to reach the pirate ship before it sets sail. To get on board, all of the monsters in the area must be destroyed. Bellflowers and Pots roam around. In this stage, there are also a number of treasure chests. These chests release more monsters upon clicking, and you must click all 7 boxes to open it or you cannot advance. You must be near the box to open it.
Achievement Ratio: 25%
Stage 2: Through the Head of the Ship!
[
edit
]
Time limit: 6 minutes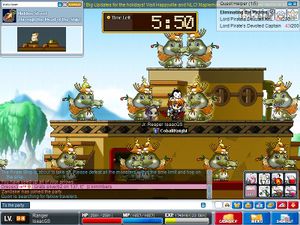 In this stage, Guon will say that Lord Pirate has sealed 3 barriers against you. To break them, the leader of the party needs to collect 10 gray Rookie Pirate Marks dropped by Mr. Alli. Once 10 marks are taken, the Mr. Alli will die and Kru will begin to spawn. Collect 10 Rising Pirate Marks dropped by Kru to disable the second barrier. Repeat and Captains begin to spawn. Collect another 10 Veteran Pirate Marks dropped by Captain. Once all the badges are collected, the party can proceed through the right portal onto the next stage.
Achievement Ratio: 25%
Stage 3: Eliminate Pirates!
[
edit
]
Time limit: 6 minutes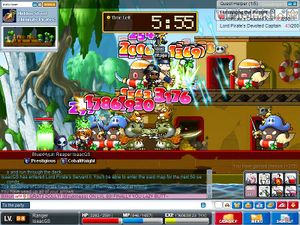 In this stage, pirates are starting to retreat. Four different types of pirates will come out of 4 doors: Kru from the upper left, Ginseng Jars from the upper right, Mr. Alli from the bottom left, and Captain from the bottom right. Some of these occasionally drop keys. The party must seal every door in this stage by clicking on the door if you have the key. In order to exit the map, all the monsters must also be defeated.
Tip

Only seal the doors after 4 keys are obtained since spawn is reduced if you seal the doors.
Achievement Ratio: 25%
Stage 4: The Captain's Dignity
[
edit
]
Time limit: 8 minutes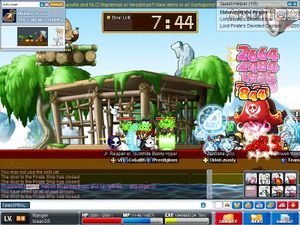 Finally, it is time for the Boss fight. Lord Pirate can smash the ground with his hook hand. He can also raise his defense and summon Krus and Captains.
Achievement Ratio: 25%
Rewards
[
edit
]
The possible rewards of the Herb Town party quest are few. There is no bonus stage, and no prize awarded for completion. It does present the possibility to gain the Lord Pirate hat, a powerful helmet. It comes in 3 varieties:
Common Lord Pirate hat, Level 100 (30 Hat Fragments)
Ratty Lord Pirate hat, Level 100 (60 Hat Fragments + Common Lord Pirate Hat)
Greedy Lord Pirate hat, Level 125 (90 Hat Fragments + Ratty Lord Pirate Hat)
1 Hat fragment is given every 10 kills during the PQ (max 30 Hat Fragments for 300+ kills)
Lord Pirate drops
[
edit
]
Use Items
White Potions
Blue Potions
Sunrise Dews
Sunset Dews
Reindeer Milk
Elixirs
Scrolls
60% Topwear DEF
60% Cape STR
60% Shoes Speed
60% Two-Handed Axe ATT
60% Two-Handed BW ATT
10% Overall Armor DEF
Etc
Lord Pirate's Key to Chest
EXP reward
[
edit
]
Amount shown are before PQ set effects and assuming 100% achievement ratio (EXP is directly proportional to achievement ratio)
EXP rewarded

, capped at Level 149.

If you are 20 or more levels below the average party level, EXP reward is reduced by 80%.
Monsters
[
edit
]
Note: The monster stats listed here are the base stats (before the PQ stats get calculated), and therefore NOT what you should expect when doing this PQ.
Name
Monster Info
Notes
Lord Pirate's Jar
Must be killed for Stage 1.

Level: 61
HP: 7,080
MP: 1,200
PDR: 10%
MDR: 10%
EXP: 36

500




Lord Pirate's Ginseng Jar
Must be killed for Stage 1. Also appears when the chests are opened.

Level: 61
HP: 7,080
MP: 1,200
PDR: 10%
MDR: 10%
EXP: 36

500




Lord Pirate's Bellflower
Must be killed for Stage 1.

Level: 61
HP: 7,080
MP: 1,200
PDR: 10%
MDR: 10%
EXP: 36

500




Lord Pirate's Ancient Bellflower
Must be killed for Stage 1.

Level: 61
HP: 7,080
MP: 1,200
PDR: 10%
MDR: 10%
EXP: 36

500




Lord Pirate's Enraged Mr. Alli
Drops Rookie Pirate Marks for Stage 2 of the Lord Pirate PQ.

Auto-aggressive

Level: 63
HP: 8,040
MP: 1,200
PDR: 10%
MDR: 10%
EXP: 36

500




Lord Pirate's Enraged Kru
Drops Rising Pirate Marks for Stage 2 of the Lord Pirate PQ.

Auto-aggressive

Level: 63
HP: 8,040
MP: 1,200
PDR: 10%
MDR: 10%
EXP: 36

500




Lord Pirate's Enraged Captain
Drops Veteran Pirate Marks for Stage 2 of the Lord Pirate PQ.

Auto-aggressive

Level: 63
HP: 8,040
MP: 1,200
PDR: 10%
MDR: 10%
EXP: 36

500




Lord Pirate's Enraged Ginseng Jar
Drops Old Metal Key for Stage 3 of the Lord Pirate PQ.

Level: 65
HP: 9,000
MP: 1,200
PDR: 10%
MDR: 10%
EXP: 36

500




Lord Pirate's Furious Mr. Alli
Drops Old Metal Key for Stage 3 of the Lord Pirate PQ.

Auto-aggressive

Level: 65
HP: 9,000
MP: 1,200
PDR: 10%
MDR: 10%
EXP: 36

500




Lord Pirate's Furious Kru
Drops Old Metal Key for Stage 3 of the Lord Pirate PQ.

Auto-aggressive

Level: 65
HP: 9,000
MP: 1,200
PDR: 10%
MDR: 10%
EXP: 36

500




Lord Pirate's Furious Captain
Drops Old Metal Key for Stage 3 of the Lord Pirate PQ.

Auto-aggressive

Level: 65
HP: 9,000
MP: 1,200
PDR: 10%
MDR: 10%
EXP: 36

500




Lord Pirate's Devoted Kru
Rarely spawns in Stage 3 of the Lord Pirate PQ.

Level: 65
HP: 9,000
MP: 1,200
PDR: 10%
MDR: 10%
EXP: 36

500




Lord Pirate's Devoted Captain
Rarely spawns in Stage 3 of the Lord Pirate PQ.

Level: 65
HP: 9,000
MP: 1,200
PDR: 10%
MDR: 10%
EXP: 36

500




Gold Captain
Rarely spawns in random stages of the Lord Pirate PQ.

Auto-aggressive

Level: 60
HP: 4,000
MP: 1,000
PDR: 10%
MDR: 10%
EXP: 25

500




Lord Pirate
The Lord of the pirates that are attacking Herb Town. He was injured while sailing through the Tornado Sea, also called "the Sea of Storms." Because of these injuries, he decided to hide out in Herb Town's bay, while sending his henchmen out to terrorize the people of the town at the same time. This one usually appears on a normal run through the PQ, when opening no chests. This form drops an item called "Lord Pirate's Key", which is used to open the chest that randomly appears in stage 2 in order to tick Lord Pirate off to trigger "Angry Lord Pirate".

Auto-aggressive
Boss

Level: 67
HP: 469,000
MP: 300
PDR: 25%
MDR: 25%
EXP: 36

5,000




Angry Lord Pirate
Lord Pirate is now ticked off. This form will only appear if you open the chest found in stage 2 of the PQ. You just need to open 1 chest in order to have to fight Angry Lord Pirate. It's necessary to defeat this form for a quest.

Auto-aggressive
Boss

Level: 68
HP: 518,000
MP: 400
PDR: 25%
MDR: 25%
EXP: 36

5,000




Enraged Lord Pirate
Lord Pirate is now furious. Currently, it is unknown how to summon this form, as only one chest is known to appear in the PQ as of the Ascension update.

Auto-aggressive
Boss

Level: 70
HP: 555,000
MP: 500
PDR: 25%
MDR: 25%
EXP: 36

5,000




Lord Pirate's Kru
Summoned by all forms of Lord Pirate.

Level: 65
HP: 9,000
MP: 1,200
PDR: 10%
MDR: 10%
EXP: 36

500




Lord Pirate's Captain
Summoned by all forms of Lord Pirate.

Level: 65
HP: 9,000
MP: 1,200
PDR: 10%
MDR: 10%
EXP: 36

500