Jump to navigation
Jump to search
Ereve
Also known as: "Ereb" in KoreaMS, TaiwanMS and ChinaMS. "Erev" in MapleSEA and EuropeMS.
Region: Ereve.
Roads: Empress' Road.
Level Range: 1-10.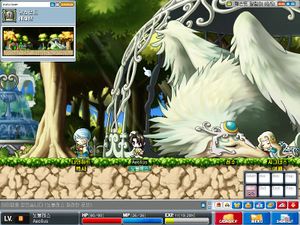 Ereve is the home of the Empress of the Maple World, Cygnus, along with her advisors, the Cygnus Knights and the divine beast Shinsoo. The Cygnus Knights work actively to stop the forces of the Black Magician, the recurring villain who is referenced in Magatia, Ellin Forest, and Nautilus Harbor.
With the Black Magician's sudden increase in power, the number of existing Knights is no longer a sufficient defense. Thus, Cygnus has opened up the land of Ereve to visitors who wish to join their ranks.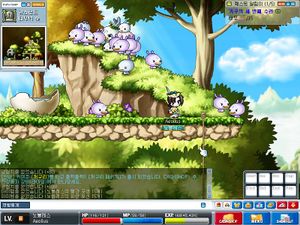 Ereve has a number of unique features. Many of the quests are exclusive to Cygnus characters. The hunting grounds(Lotus Forest) cannot be entered by any non-Cygnus characters; this is mostly to prevent higher level characters from interfering since Noblesse level up to level 10 here, instead of Maple Island. On the far side of the forest, there is a special training area. This is used to get new apprentice Knights (in their training) started, and also where the later important tests seem to be held.
The creatures of Erev seem to be light and birdlike. Because the creatures can't be reached by all players, they do not drop cards for the Monster Book. The area itself also possesses these Avian qualities, as does the legendary Holy Beast, Shinsoo, which is also found here. Shinsoo seems to be a wise creature, and not a monster. By talking to Shinsoo, a player can gain a special blessing, up to level 20, which increases the player stats for one hour, making it very useful to beginning Noblesse. The island levitates high in the sky using the power of the Sprites. The island is able to travel about the world, however, it is now stationed close to Maple island and ellinia.
Reaching Ereve
Ereve is only accessible by ship. It can be reached from Ellinia (a 2 minute ride) by speaking with Kiruru or Orbis (a 8 minute ride) by speaking with Kiru. Both ship rides cost 1,000 Mesos. In the Big Bang patch, Six Path Crossway now transports a player to Ereve instead of Ellinia.
Character Creation

For more details on Cygnus Knights, see MapleStory/Noblesse.
By choosing "Cygnus Knights" in the new character creation screen, anyone can make a Cygnus Knight. Instead of being a Beginner, this new character will be a Noblesse.
Upon reaching level 10, and obtaining prior approval from Nineheart, the Noblesse can then speak to Mihile to become a Soul Warrior, Oz to become a Flame Magician, Irena to become a Wind Breaker (Archer), Eckhart to become a Night Walker (Thief), or Hawkeye to become a Striker (Pirate). The main difference between a Cygnus character and their ordinary counterparts is that Cygnus characters are bonded to a unique summon "sprite" from their first job onward. This sprite imbues the Cygnus character with the bonuses of its elemental affinity, granting the Knight new skills and greater powers.
Monsters
Background History
Spoiler
Ereve is the island from where Cygnus (Greek for "swan"), the Empress, watches over Maple World. To serve this purpose, Ereve is designed to be a Levitated island which can drift to various regions. However, due to the setting up of the Cygnus Knights, the island has to be stationed such that knights can return to the island with ease. The resident creatures on the island were created by shinsoo to facilitate the training of new knights, as the island is devoid of monsters.
Ereve Tutorial
When the Knights of Cygnus becomes an official class, Ereve would have a new initial tutorial quest chain similar to Mushroom Town Training Camp. The quests feature a small bird NPC that guides and follows new players around. The quests are madatory to be promoted to a knight-in-training.
Maps
MS Ereb.png

Bird's Eye View Map of Ereve without individual maps denoted.
NPCs
NPCs that appear in multiple towns
Cassandra (Empress' Road: Fork Of Erev Road)
Duey (Empress' Road: Fork Of Erev Road)
Gaga (Empress' Road: Fork of Erev Road)
Event NPCs
Unique NPCs
NPC
Location(s)
Notes

Cygnus
Empress
Empress' Road: Ereve
Empress of Maple World.

Kirium
Storage Keeper
Empress' Road: ??
Storage Keeper in Ereve.

Kiriyu
Weapon & Armor Seller
Empress' Road: ??
Weapon & Armor Merchant in Ereve.

Kiriwing
Merchant
Empress' Road: ??
Grocery Merchant in Ereve. Also known as KiriWings in MSEA

Kiriru
Station Guide
Empress' Road: Sky Ferry
Station Guide for trips from Ereve to Ellinia (and back); 1,000 Mesos (90% discount for Noblesse). Sits on the ship.

Kiru
Station Guide
Empress' Road: Sky Ferry
Station Guide for trips from Ereve to Orbis (and back); 1,000 Mesos (90% discount for Noblesse). Sits on the ship.

Shinsoo
Empress' Road: Ereve
Cygnus' Protector. Also known as Divine Bird in MSEA

Neinheart
Tactician
Empress' Road: Ereve
Cygnus' advisor. His full name is Neinheart Von Rubistein. Also known as Nineheart in MSEA

Mihile
The Chief Knight of Light
Empress' Road: Ereve
Leader of the Dawn Warriors. Also known as Mihail in MSEA

Oz
The Chief Knight of Fire
Empress' Road: Ereve
Leader of the Blaze Wizards.

Irena
The Chief Knight of Wind
Empress' Road: Ereve
Leader of the Wind Archers. Also known as Irina in MSEA

Eckhart
Chief Knight of Darkness
Empress' Road: Ereve
Night Walker job trainer. Also known as Ickart in MSEA

Hawkeye
Chief Knight of Lightning
Empress' Road: Ereve
Leader of the Thunder Breakers.

Kiku
Training Instructor
Empress' Road: Training Forest I
Training Instructor in Lotus Forest.

Kiriko
??
Drill Hall Gatekeeper.

Kiridu
??
Riding Instructor in Kiridu's Hatchery.

Kidan
Knight Trainer
Empress' Road: Knights Chamber
Knight Instructor in Ereve.